This is a network of community and environmental groups, businesses and public sector organisations in the Wirksworth area that are working to make a positive contribution to sustainability. Their contact details and a brief introduction is given below.
Each of the organisations in the Hub approaches sustainability from a different starting place. Making a positive effort to bring together the needs of the community, environment and the local economy is what makes a group or business eligible to join the Hub, even if they are only starting out on their journey. There is more information about what sustainability is at the bottom of this page. If you know of other groups or organisations that might want to be listed here, please get in touch via email: grassrootswirksworth@gmail.com
This page is in the process of being updated. Thanks for your patience, if you have any links/suggestions/anything to add, drop us a line at grassrootswirksworth@gmail.com
Gardening / Food production –
Community Growers – A sub-group of Grassroots Wirksworth, the group have a garden next to the Railway Station and maintain the Community Orchard. They welcome volunteers.
Wirksworth Hidden Gardens – An annual open garden weekend in June.
Bolehill Open Gardens – Some more local gardens, open over a different June weekend.
Wirksworth Farmers Market – Every first Saturday of the month, 9-1 at the Memorial Hall Gardens.
Pingle Produce – A local market garden growing natural and chemical free salad, veg and fruit. Their veg boxes contain their own veg as well as organic veg from other certified growers. They have a stall at the Farmers Market (first Saturday of the month). Volunteers welcome.
Secret Orchard Nursery – Wirksworth's tiny hidden nursery.
Catherine's Green Farm – A nursery growing herbs, plants and wildflowers. Is based in Birchover and has a stall at the Farmers Market.
Nature Conservation –
Stoney Wood – Wirksworth's Millennium woodland planted in the area recovered from Stonecroft Quarry. The land on which the wood is planted was donated by Tarmac Ltd to Wirksworth Town Council. More information is on the town council website.
Wilder Wirksworth – A group set up to benefit the biodiversity and nature of Wirksworth. They recently crowdfunded to buy a piece of land to re-wild.
Derbyshire Wildlife Trust – A local charity which has been protecting wildlife since 1962, based between Wirksworth and Middleton.
Domestic Energy Reduction –
Wirksworth Transition Community Land Trust – A charity tackling fuel poverty via energy efficient housing.
Transport –
Safer Roads for Wirksworth – A group set up to improve road safety in the town. Contact them via the Town Council
Public transport – The Sixes – is the main bus service that connects Wirksworth to Belper, Derby, Matlock, Bakewell and Ripley. The X17 goes all the way to Barnsley via Sheffield. Check it out.
This GeoPunk website is a great resource for all buses that serve the town.
Ecclesbourne Valley Railway – Wirksworth's volunteer-run railway station.
Waste reduction –
Grassroots subgroups consist of the Rubbish Group and the Repair café
Climate change groups –
Peak XR – committed to raising awareness of climate change.
Green tourism and leisure –
Derbyshire Area Ramblers – Ramblers is the leading charity campaigning and promoting walking. Contact Martin Bennett via footpaths@derbyshiredalesramblers.org.uk or visit the website: https://www.derbyshiredalesramblers.org.uk/html/home.php
Derbyshire Countryside Service – Council run care for local countryside and country parks and countryside sites. The site has details of park locations and events.
Community support –
Community Response Group – This group was set up during the time of Covid; it consists of residents, together with the town and district councils, Hannage Brook Medical Centre and the churches, to offer support to all residents during times of need. Further details are here and there is also has a facebook page
Benefits advice –
Welfare Benefits – A council-run service to help you find out about the benefits you're entitled to and how to claim.
Local work / Business support / New Opportunities Wirksworth – NOW etc etc
This section is currently being updated. Thanks for your patience.
Shop local – businesses that actively promote sustainability
Skopa – The Zero Waste shop
Providers of Training / Skills, including creativity & arts organisations –
Derbyshire Eco Centre – Derbyshire County Council's sustainability learning centre in Middleton by Wirksworth offering a wide range of courses including qualifications in horticulture and dry stone walling.
Haarlem Artspace – Haarlem Artspace studios are based at Haarlem Mill in Wirksworth. It is a space for artists, cultural workers, curators, educators, freelancers, producers, writers, art and culture lovers. There is also a shop in the town, where Artspace users and other local artists can show their work.
Wildroots Creative – A community interest company that teaches heritage crafts, based at Wirksworth train station.
Pitch Blue – Workshops and art courses in Wirksworth
Zantium Studio  – Local art courses in nearby Godfrey Hole
Everything Art – Providing for all of your art needs
Churches Together –

Wellspring: Beyond Ecochurch
This sections is currently being updated, Thanks for your patience.
What is sustainability?
In 1987, the United Nations Brundtland Commission defined sustainability as
"meeting the needs of the present without compromising the ability of future
generations to meet their own needs."
There are three main principles of sustainability, they are Environmental protection,
Social Equity and Economic Viability, hence Grassroots Wirksworth's strap line of 'for
Environment, Community and Enterprise'.
An activity or development is considered sustainable if the needs of the
Environment, Community and Economy are met. Development that ignores the
interests of all three of these is not sustainable. Compromise between their
conflicting needs is often needed. Sustainability is often represented
diagrammatically.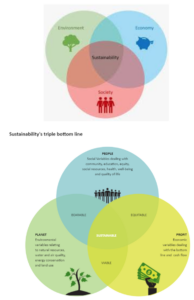 There are other, more wide-ranging definitions of sustainable development online.
The countries of the world have agreed to the United Nations Sustainable
Development Goals (SGDs) and each nation has set targets to meet these
goals. They report annually to the UN on the progress they are making towards each
set of targets. The UN SDG website has information about the goals and progress
being made. Although climate change and renewable and clean energy are among
the goals there are 15 other goals, linked to environment, community and economic
activity, including tackling poverty and working towards world peace.
There is some positive news in the progress towards the 17 Sustainable
Development Goals as well as some backwards steps. For more information, go to
https://sdgs.un.org/goals
This page is in the process of being updated. Thanks for your patience, if you have any links/suggestions/anything to add, drop us a line at grassrootswirksworth@gmail.com